Mailspotter
Mailing Software = Direct Mail Campaign Visibility
MailSpotter is a tracking and mailing software solution that lets you view the progress of your mailings as they pass through postal facilities across the nation. You will have valuable real-time mail tracking information at your fingertips including raw scan data from the USPS® and easy-to-read charts, graphs and tables.
MailSpotter gives you your own branded reporting portal with real-time information alerts sent to your email or cellphone.
With so much insightful and shareable information, you'll soon be wondering how you ever ran direct mail campaigns without MailSpotter.
Mail Tracking Software Features
Detailed Reporting
Easy-to-read charts, tables and maps show the progress of your mail through the postal system. You'll get detailed delivery reports by: State, Network Distribution Center (NDC), Sectional Center Facility (SCF), 3 and 5-digit ZIP Codes, Postal District, Area or Postal Facility, as well as details on individual mailpieces.
Custom-Branded Portal
Ideal for service providers, or for sharing across an organization. Customize the reporting portal with your company logo and provide real-time reporting to your customers or colleagues via a simple website link.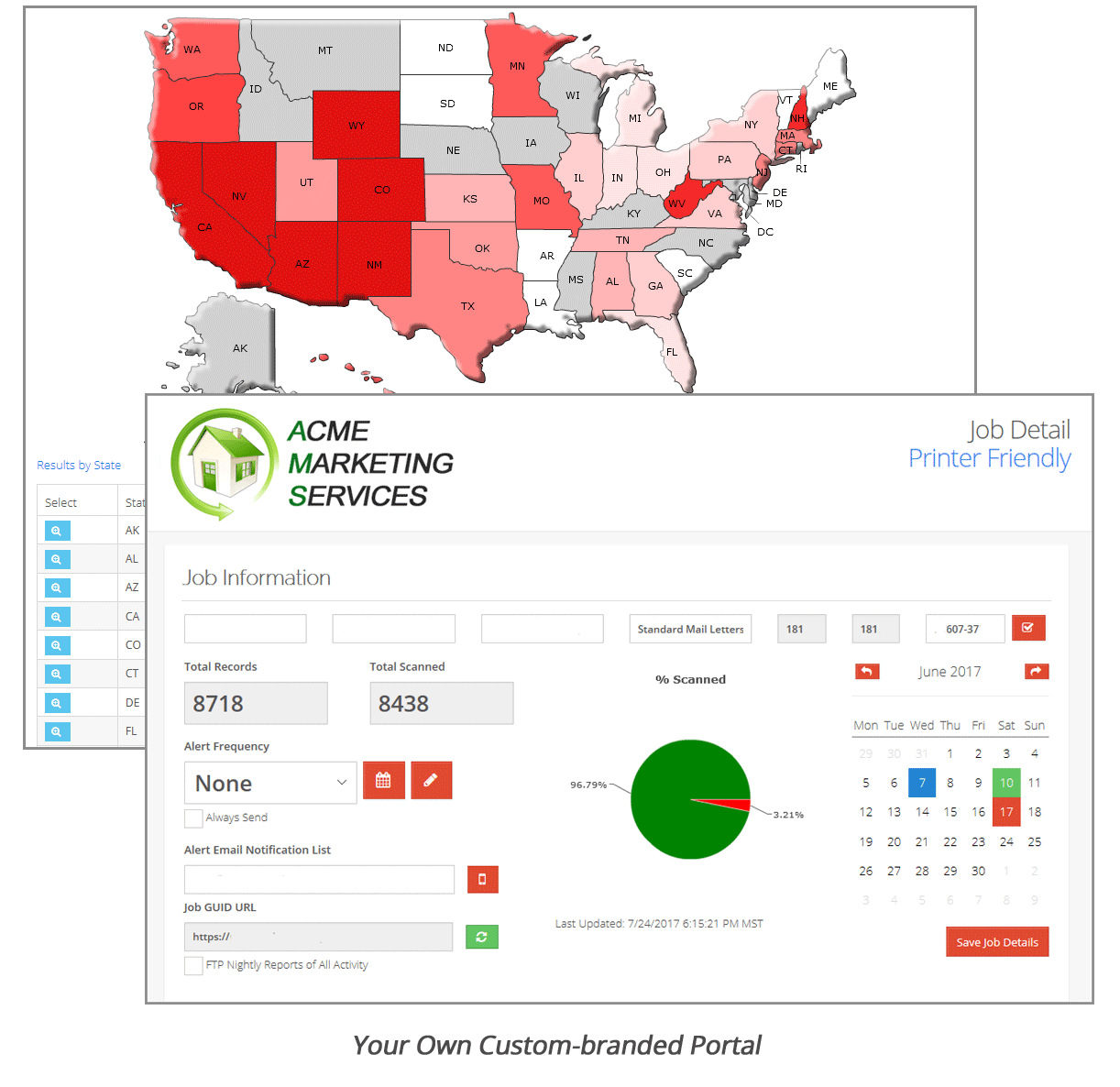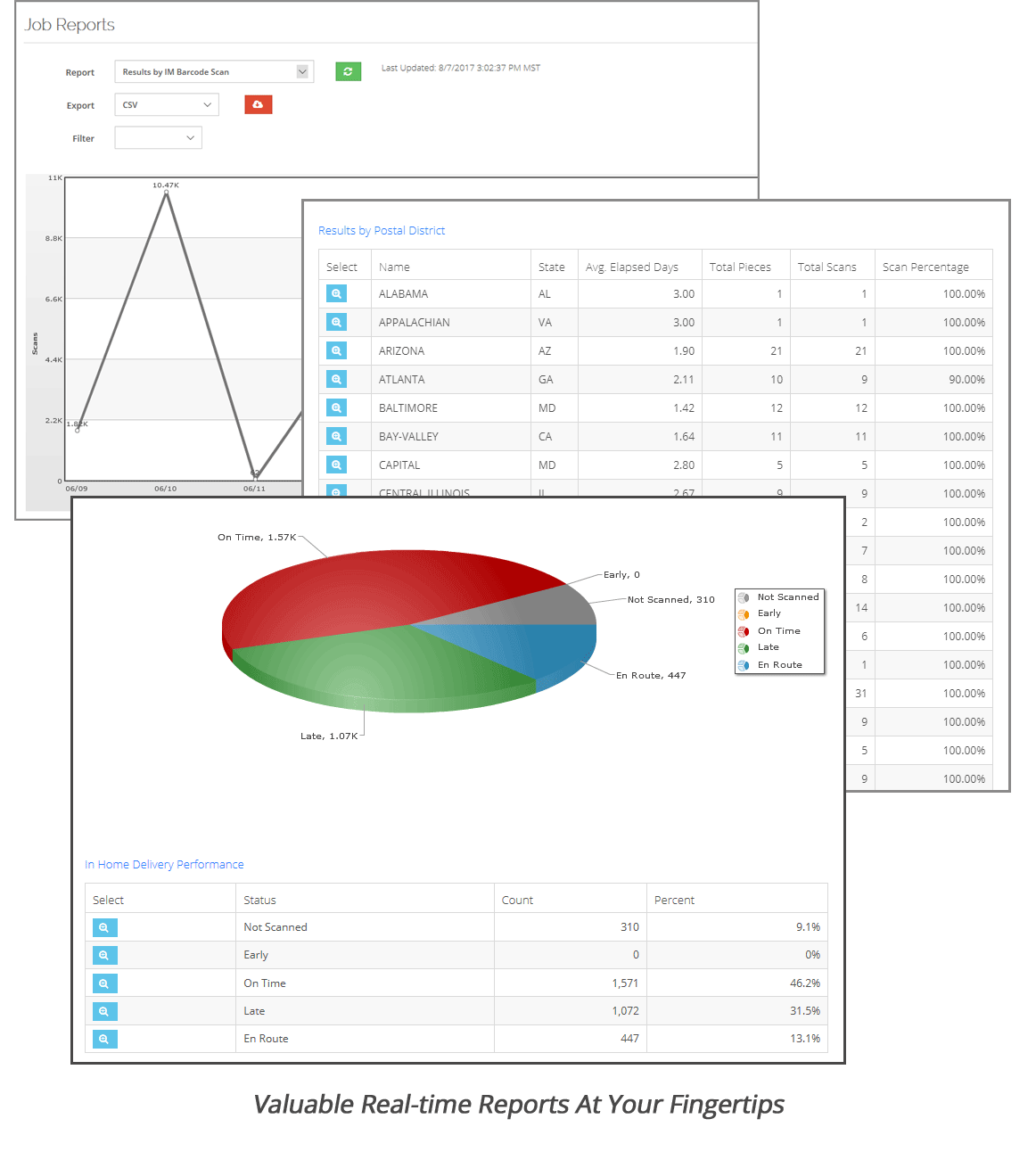 Exportable Reports
In multiple formats, so you can export to third party programs or share specific data with different groups.
Cloud Reporting
MailSpotter is accessed via a browser, so you can follow the progress of your mailings anytime, anywhere.
Create Unique QR Codes
Create and track unique QR Codes for each individual recipient, so you know exactly who scans your offer.
Google Maps Integration
Show precise locations of QR code scans, down to Street View level.

Real-Time Alerts
Optional email or text alerts when QR codes are scanned so you'll not only know who scanned your offer, but also when they scanned it.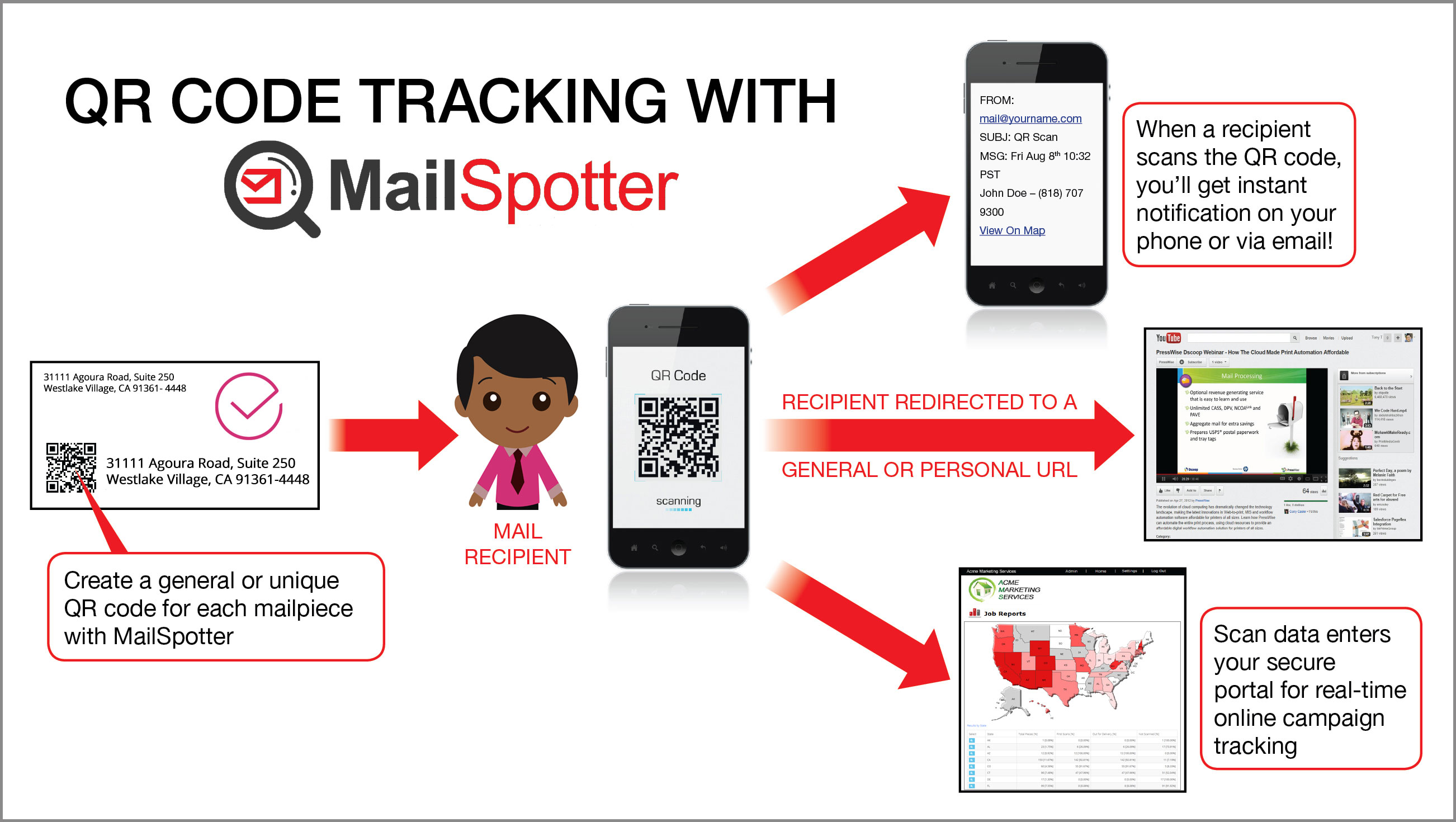 Benefits of Mailing Software
Mail Visibility
Greater mail visibility means more informed decision-making and the ability to respond quicker.
Increased Customer Service
A value-added service, leading to more satisfied customers, each with access to their own reports through a website branded with a company logo and personalized URL.
Faster Issue Resolution
See potential delivery issues in real time, and act accordingly.
Stay Informed
Better preparation for staffing call centers, scheduling follow-up calls etc.
Rapid Response Marketing
See exactly who opens the mail with the QR Code scanning tool with instant alerts.
Additional Revenue
Service providers can generate new revenue by offering this an add-on service.
Uses
Print and Mail Service Providers
Provide added value, generate additional revenue and enhance your service by giving customers real-time access to your custom branded mail tracking portal.
Marketers
Gain valuable, timely and accurate insight into campaign progress and success. No more wondering whether your mailing has been delivered.
Sales Staff
Schedule follow ups with the right people at the right time, using real-time QR code scan data.
Call Centers
Know exactly when your promotions are being received so you can manage your staffing requirements for responses.
Billing
See when bills and invoices are delivered to your customers so you can follow up accordingly.
Banks
Track credit card deliveries, statements and more.