Batch Address Verification
Batch Address Validation and Correction 
CASS Certified by the USPS® for over 20 years, SmartSoftDQ's AccuMail address validation solutions provide you with powerful, industry-leading address correction software to validate, adjust and standardize addresses across your entire database.
The quality of your address data deteriorates over time for many reasons, including keystroke errors, customer information changes, or ZIP™ codes being added or changed.
Available as standalone software or address verification API's that are easily integrated into most existing third-party applications or home-grown systems. SmartSoftDQ's address verification and address correction tools are fully scalable to the size of any organization and designed to improve efficiency, lower costs and increase ROI across your business.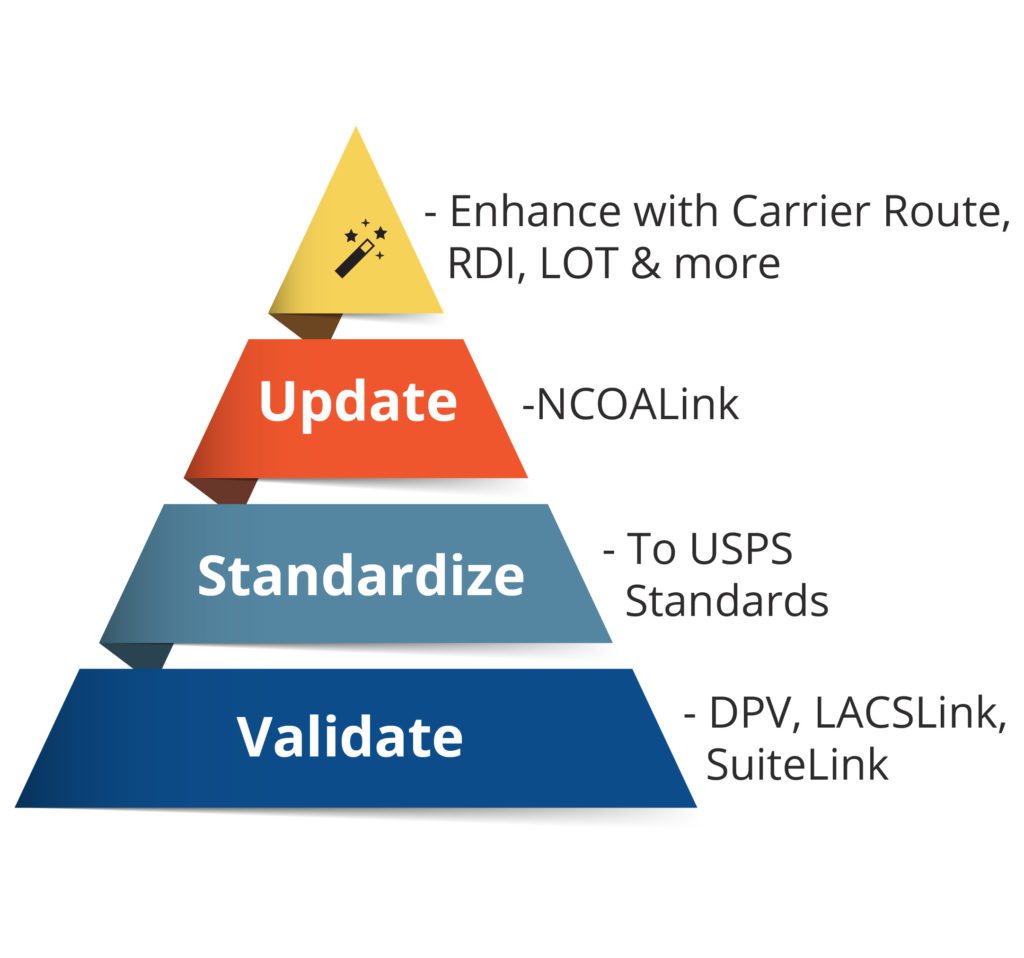 Benefits of Address Correction Software
Lower Mailing and Shipping Costs
Cut undeliverable mail and packages and save on postage, printing and other costs, such as expensive Address Correction Penalties charged by some shipping carriers. With our RDI option, easily identify which address are residential before you ship.
Less Waste
Many organizations underestimate the cost of hard goods as a result of poor address data quality.  More accurate address data lessens waste in materials, packaging, and labor.
Increased ROI
With address correction software expect less returned mail, lower mailing & packaging costs, fewer address correction penalties from carriers, less waste, greater returns on sales & marketing campaigns, and faster customer payments.
Improved Decision Making
Better quality address data means better information sharing and improved operational decisions. When was the last time you reviewed the accuracy of your legacy data? What is the impact on your sales?
Business Confidence
Batch address verification provides you with certainty that the data you are collecting is accurate and standardized. We have batch solutions that can integrate with your existing applications to automate full list processing.
Customer Satisfaction
Lost or late deliveries or payments due to inaccurate address data can damage reputations and hurt businesses. Greater operating efficiency translates to happier customers.
Address Standardization Uses
SmartSoftDQ's AccuMail solutions provide accurate address data to all business segments and industries. Every organization with contact information can benefit from and rely on our address validation software. Expect easy integration into all of your systems including billing, shipping, CRM and Web forms.

Membership
Membership management is vital to an organization. Verify member address information and keep it updated as people move.
Customer Service
Inaccurate addresses mean late or lost deliveries, putting a strain on your customer support team and damaging your reputation.
Sales and Marketing
Inaccurate contact data means wasted materials, labor, time and postage, as well as lost sales opportunities.
Finance/Legal
Confidential or time-sensitive materials need to be delivered to the right place. Lost bills/ statements impact your cash flow.
Articles & Use Cases
Total Address Quality
Think about how you gather customer information and store it. This white paper walks through what you need to consider to confidently manage your customer database with Total Address Quality.
The Cost of Poor Data
Many companies have databases that are antiquated with outdated or incorrect information. Do you know what that is costing? Is your company experiencing address data decay?
Marketing Dollars, Direct Mail & Data Quality
Keeping accurate data ensures that you use the same contact list longer, effectively spend your marketing dollars and appeal to your customers on an individual level.